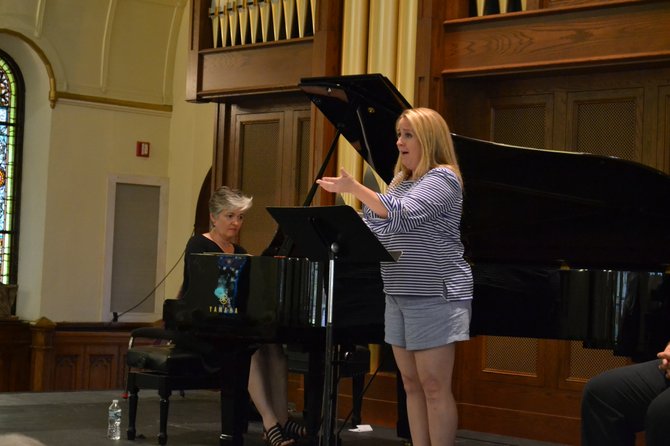 One such event is the concert on Aug. 22 at First Presbyterian Church titled "Not Your Mother's Chamber Music Concert." The concert, being done for the third time at the festival, features non-traditional elements such as surprise non-musical performance (in the past it has been a poetry reading or a monologue) and musicians playing from different parts of the room — not just the stage.
World-class performers coming to Skaneateles this year will include Donal Fox a jazz pianist from Boston, who will perform Thursday, Aug. 15 and Saturday, Aug. 17 alongside violinist Hilary Hahn, a staple performer at the festival. Hahn, now 33, has performed at the festival every year since she was 12 and her shows always sell out in advance, Freer said. She will perform a concert with pianist Cory Smythe in Skaneateles High School on Friday, Aug. 16.
Also appearing will be A Far Cry, a 17-member string orchestra that has no conductor. It will perform "ávant-garde and jazz influenced works" in four different concerts during week four, whose theme is "Bohemian triumph."
The festival also holds free community events in Skaneateles every week. The free events include FamilyFest, educational programs for the whole family, and a workshop for music students on Aug. 28.
A couple events also give a behind the scenes look at the festival. A free open rehearsal followed by an audience question and answer session was also held on Aug. 7 with vocalists Jennifer Aylmer and Randall Scarlata and pianists Elinor Freer and Laura Ward and a pre-concert chat with Donal Fox (for ticket-holders only) will be held before the Aug. 15 concert.
The Skaneateles Festival is a non-profit organization, who sells tickets and seeks sponsorships, to help cover the costs associated with the festival and to fund scholarships and other community outreach programs. For more information on the festival and to buy tickets, visit skanfest.org.
Joe Genco is the editor of the Skaneateles Press. He can be reached at editor@skaneatelespress.com.
Vote on this Story by clicking on the Icon