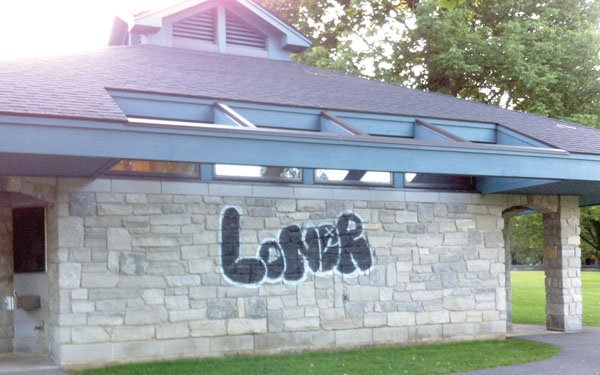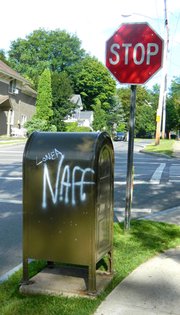 Cazenovia — The rash of spray-painted graffiti that has been spreading throughout Cazenovia has taken a turn from misdemeanor annoyances to felony criminal mischief after graffiti clean-up on the Lakeland Park Bathhouse was determined to cost taxpayers thousands of dollars.
The spray-painting of the four-foot-long word "Loner" on the bathhouse last week was the latest in a string of graffiti incidents that have occurred on sidewalks, mailboxes and sign poles from Lakeland Park up Albany Street all the way to the Tops plaza.
"This is somebody who is in the village — not a passerby," said Cazenovia Police Chief Michael Hayes. "We've recovered evidence that we are processing."
The graffiti incidents, which started during the summer, typically use skateboarder slang language, the words "loner" and "naff," and, on some sidewalks on Albany Street, spray-painted messages. The village department of public works has cleaned some of the graffiti as it has occurred, while others remain visible.
Village police have been investigating the graffiti for weeks and have mapped and documented every incident, Hayes said. His officers have recovered evidence, including fingerprints that are currently being run through law enforcement databases, and have leads as to the identity of the perpetrator(s) although he declined to comment on their possible age(s).
The Lakeland Park Bathhouse graffiti, which occurred sometime between late evening Sunday, Aug. 4, and early morning Monday, Aug. 5, is different from the previous incidents not only in the larger size of the graffiti but in the cost of the clean-up. The village DPW had to powerwash the wall, which caused the grout to disintegrate. The cost to re-grout the wall will cost thousands of dollars, Hayes said.
"Based on the cost [of the clean-up], they're looking at a criminal mischief felony at a minimum," Hayes said of the charges facing the perpetrator(s). "The laws pertaining to graffiti are not even included in that."
(Continued on Next Page)
Prev Next
Vote on this Story by clicking on the Icon