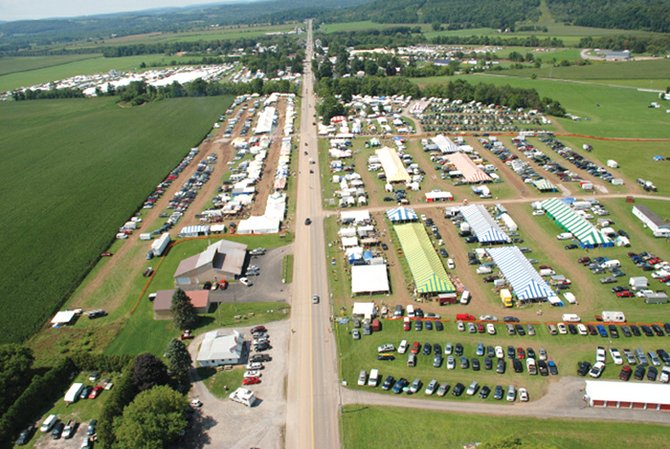 Madison — Nearly 50,000 treasure hunters are expected to descend upon the small hamlet of Bouckville this month during the 42nd annual Madison-Bouckville Antique Week. The largest outdoor antique show in New York State — and the latest in a string of successful events in Madison County this summer — runs Monday Aug. 12 through Sunday Aug. 18.
"We're really excited about this year's show," said John Mancino, president of Madison-Bouckville Promotions, which organizes Antique Week. "The June Antique Show exceeded all of our expectations and we had a great turnout for the first annual Bouckville Classics car show. This momentum has carried over into Antique Week and helped us book thousands of vendors — it's going to be a great event."
Mancino said that more than 2,000 vendors and dealers will line Route 20, setting up on picturesque farm fields alongside local antique shops to create a continuous flow of antiques. Each will have antiques and collectables of all shapes, sizes, and price ranges available for sale or trade. Admission is free to most fields.
In addition, the Madison County Visitors Center, located on Rt. 20, is among the many lots that offer free parking. A convenient shuttle will be running a continuous loop from the Visitor Center to downtown Bouckville Thursday through Sunday.
Those who attend the show on Tuesday through Friday at noon will beat the crowds and also be eligible to win $500 cash by playing the "Cash Walk." Visitors who have their game card stamped at ten participating locations will be entered into a raffle, which will be held Friday at noon in The Gallery Antique Store. The card will be available at the Cider House Antique Shop and, when completed, must be turned in at Troop Scoops.
As is tradition, there will be plenty of food vendors ready to feed hungry shoppers with fare ranging from hamburgers to ice cream to lobster.
For more information on Madison-Bouckville Antique Week, visit madison-bouckville.com.
Vote on this Story by clicking on the Icon