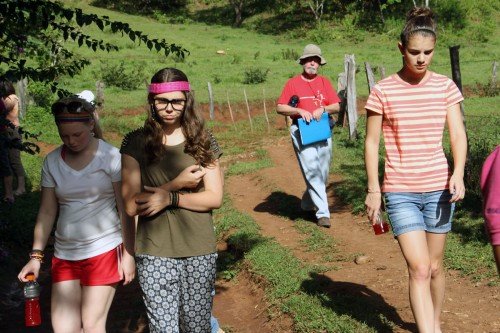 Driving into the small, tranquil village of El Mozote, it's difficult to comprehend that one of the largest violations of human rights in the modern Americas occurred there 31 years ago.
The Inter-American Human Rights Court called the 1981 killings in and around El Mozote "a systematic plan of repression" carried out by El Salvador's military during the civil war.
Between Dec. 11 and 13 of that year, government soldiers shot dead more than 800 people, more than half of them children, in what was the largest massacre during El Salvador's 12-year conflict that killed some 75,000 people.
"It reminded me of My Lai," where U.S. Army soldiers murdered more than 300 unarmed civilians in South Vietnam in 1968, said Audrey Cleaver-Bartholomew, a member of Christ Church in Manlius, after visiting the El Mozote memorial as part of an Episcopal youth pilgrimage.
Cleaver-Bartholomew studied the 1990s ethnic cleansing in the former Yugoslavia and the My Lai Massacre at Fayetteville-Manlius High School, but the El Mozote Massacre wasn't mentioned, she said.
In El Mozote, the soldiers carried out the massacre over two-and-a-half days, said Cleaver-Bartholomew, 19. "[The soldiers] had time to think about it. It was so systematic. What can get people to that point?"
"You can understand the details, but not the motives," she added.
The youth group – six girls ages 14 to 19 – visited many of El Salvador's historic sites, including the Chapel of Divine Providence Hospital, where Roman Catholic Archbishop Oscar A. Romero was assassinated on March 24, 1980; the Romero Center and Museum of the Martyrs at the University of Central America; the Monument to Memory and Truth, which lists the names of people killed during the civil war; the Museum of the Salvadoran Revolution; and El Mozote, the site of the 1981 massacre.
The Episcopal Diocese of Central New York and the Anglican-Episcopal Church of El Salvador have been in a companion relationship, formally and informally, for 20 years, said Chuck Stewart, chair of the companion diocese committee and a member of St. James in Skaneateles.
(Continued on Next Page)
Prev Next
Vote on this Story by clicking on the Icon