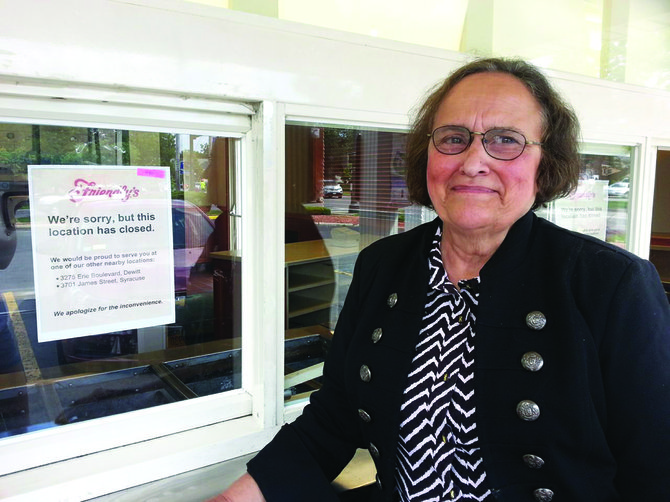 continued — "You had to bring your own calculator, figure out your own totals and know all of the prices by heart," she said. "I liked it that way – it kept me awake! We didn't have computers to put our orders in, we had to write them out and hand them to the cook."
But for Costello, perhaps the most memorable time at Friendly's was just after the Labor Day Storm in 1999.
"After the microburst, Friendly's was the only place that was open because it was somehow connected to the fire house, which had a generator," Costello said. "We were open almost 24 hours a day, giving people coffee and food because they had no power. [The power outage] lasted for a week!"
And she still gets recognized around town from her time spent working at the restaurant. Right after interviewing Costello at the DeWitt Wegman's, a woman came up to her and said "I remember you from Friendly's- you made the best chocolate ice cream soda!" Costello laughed and thanked her.

"You don't realize it when you work in the public, but people recognize you," she said.
Costello ultimately gave up her job there when she received an offer to waitress at Turning Stone Casino in 2001, and currently works as a Kindergarten teacher at Creative Environment Day School. But unfortunately, not everyone escaped the restaurant closing with job security.
A manager at Friendly's said that 80 percent of the employees did not have another job lined up after the store closed its doors for good at 2 p.m. on July 31.
"It's not like it was 20 years ago when companies took care of their employees," the manager said. "It's a cutthroat business."
The manager also said that the Fayetteville store was doing better than many of the others, but described the location as "prime property" and suggested that Friendly's, which filed for bankruptcy in 2011, is hoping to sell it for profit.
Vote on this Story by clicking on the Icon