Stacy Duger-Huntington is young, vivacious and yet again in the midst of fighting for her life.
Duger-Huntington was diagnosed in the fall of 2001 with stage 2 breast cancer. Eleven years later, that same cancer has struck her again and has spread to her liver (Stage 4). She is currently undergoing chemotherapy.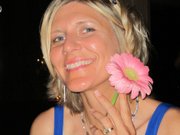 A lifetime resident of Baldwinsville and graduate of Baker High School, Duger-Huntington and her husband, Al, have a 12-year-old daughter, Molly. Duger-Huntington recently completed her Masters in Art and Masters in Teaching Art at SUNY Oswego and was very involved in teaching and subbing as well as coaching several sports in the Baldwinsville Central School District. However, because of her condition, she was unable to teach or coach, two things that are very dear to her. She recently began coaching track at Baker High School and substitute teaches when she is called in.
In an effort to help offset medical expenses related to Duger-Huntington's treatments and ongoing visits to specialists, friends and family have organized a fundraiser to be held from noon to 5 p.m. Sunday, June 2, at the Lakeside Fire Dept. Recreation Banquet Hall, 1002 State Fair Blvd., Syracuse. There will be food, entertainment and many raffles and the event is open to the public.
Advance sale tickets are $15, children 7 and under are free. Tickets are $20 at the door. Those interested in purchasing tickets to the event and/or donating food, raffle items or making a monetary contribution can contact the event chairperson Jean Dudley at 380-8340 or visit thefightforstacy.com.
Vote on this Story by clicking on the Icon