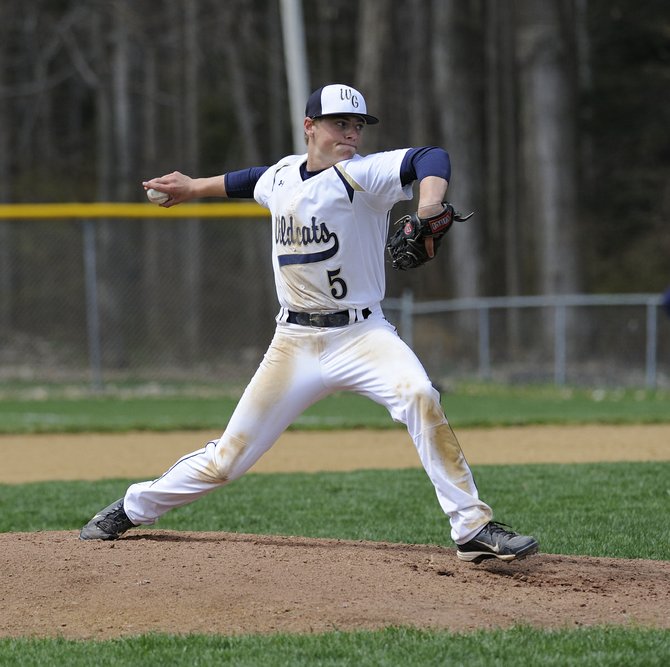 The Wildcats' hot streak got halted Friday afternoon, when it went to Falcon Park and, aside from one big rally, saw its bats shut down in a 5-3 loss to Auburn.
For four innings, WG could not break through against Maroons pitcher Mike Charles, but it erased a 3-0 deficit in the top of the fifth with three runs to tie it, 3-3. Gauthier and Will Randall both drove in runs during that rally.
Charles shut the door from there, only allowing four hits overall, and the Maroons got to Wildcat starter Seamus Barry for a go-ahead run in the fifth and earned an insurance run off Dan Macko in the sixth to prevail.
WG brought back Adam Reichel for Saturday's game at Liverpool, who had only won its first game of the season the day before against Syracuse West in a 3-0 shutout.
And Reichel would win again, though he would need to be patient as, again, WG waited until the latter stages to pull it out, this time doing in the eighth inning to beat the Warriors 9-1.
Much of the contest was a duel between Reichel and Liverpool's Don Pauldine. Michael Wright drove in a run in the bottom of the third and the Warriors went up, 1-0, and though Reichel shut things down from there, only giving up three hits and striking out five, WG couldn't capitalize.
So the Wildcats (6-3) went to the top of the seventh still trailing, 1-0, but got to Nathan Dodge for the tying run, sending it to extra innings. Then, in the eighth, the Wildcats exploded for eight runs, tagging Dodge, Luke Gilbert and Ben Terzini to turn a tense contest into a rout.
To help his own cause, Reichel managed two RBIs in that late surge, matching Bevard and Will Randall, while Wes Randall managed three hits and an RBI and Rodriguez also drove in a run.
This week features four more games, including three straight at home against Syracuse East, Auburn and Oswego after a Monday rematch at F-M.
Vote on this Story by clicking on the Icon