Baldwinsville — International Guitar duo Loren and Mark will be returning to the Grace Episcopal Church for an afternoon of world class music at 4 p.m. Sunday, April 28.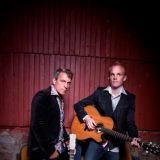 Loren and Mark have just returned from their second tour of Europe and have a busy schedule booked for 2013 in the USA. The duo first came to Baldwinsville last year and they are excited to be returning.
Mark, an internationally recognized guitarist who hails from New Zealand and Loren, the youngest instrumentalist to ever appear on the Grand Ole Opry, were first brought together by the Australian Guitar sensation Tommy Emmanuel. They attribute Tommy, Chet Atkins and Jerry Reed as their biggest influences and have performed with Tommy Emmanuel several times this year.
"Fresh and exciting… these guys rock," Emmanuel said of the duo.
Loren and Mark share a unique musical chemistry seldom found among musicians. Their live performances feature not only their spectacular technical grasp of the guitar, but also their outstanding musicality and spontaneous creativity. The interaction between the two musicians is as much a feature of their shows as is the world-class guitar playing that they both display. Loren and Mark perform a varied repertoire of original and arranged music consisting of stunning guitar duets as well as songs, giving them a wide appeal. The style of guitar playing is largely built upon the thumb-picking techniques pioneered by guitar greats Merle Travis, Chet Atkins and Jerry Reed, and their songs feature Loren's superb vocals with some beautiful harmonies from Mark.
Their most recent album Onward received a SAMMY award for 'Best Americana Album' in March, and the title track Onward won 'Best Instrumental' at the International Acoustic Music Awards.
Grace Episcopal Church is located at 110 Oswego St. in Baldwinsville. Tickets are $15, available at the door; children 16 and under are free.
Vote on this Story by clicking on the Icon