Baldwinsville — Charlie Farrell and Dawn Custer both embody the volunteer spirit.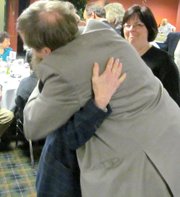 For this reason, these two individuals were named the 2012 Man and Woman Volunteers of the Year by the Baldwinsville Volunteer Center, a recognition that dates back to 1961.
"These two are among thousands who represent Baldwinsville," said Sarah Baker, after announcing Farrell was this year's male recipient.
As last year's female recipient of the award, Baker spoke about Farrell's many contributions to the community, which included being a 35-year member of the Baldwinsville Rotary Club and a 2003 Paul Harris Fellow recipient as well as kindly volunteering to be a guest speaker in her class when she was a teacher at Baker High School.
Upon accepting the honor, Farrell said his greatest accomplishment as a volunteer was helping to launch Canton Woods Senior Center.
"Canton Woods has always been my baby – it is the pride of Baldwinsville," he said noting the facility was the first senior center located outside a major city in the state of New York. He also imparted words of advice he had received from his father – "You give back to the people who gave to you."
Upon learning she had been selected as this year's recipient, Custer modestly quipped, "See what happens when you give away a couple of cupcakes."
Her many contributions to the community were heralded by the 2011 Man of the Year Ed Barlow who called Custer an "energetic lady" who is always ready to lead a committee or provide donations.
"She is a champion for her adopted hometown of Baldwinsville," he said noting she has served the community in many capacities that include volunteering for the Friends of Beaver Lake and the Greater Baldwinsville Chamber of Commerce.
Custer's advice upon accepting the recognition – "Think about trying to be kind," she said.
(Continued on Next Page)
Prev Next
Vote on this Story by clicking on the Icon