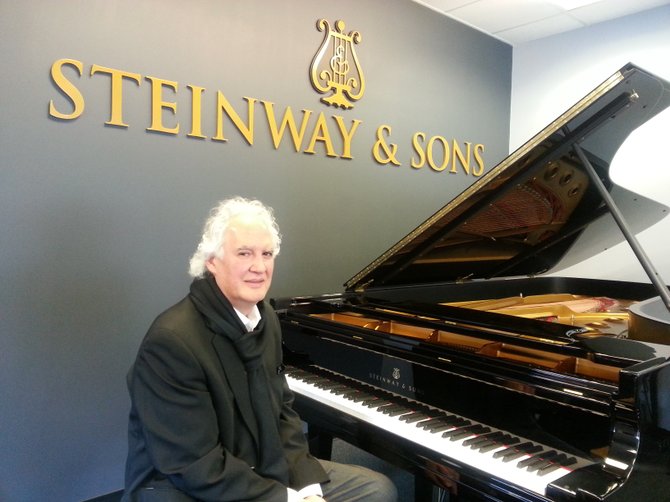 DeWitt — A Steinway piano is a bit different from the piano you may come across at a typical music store. For one thing, it takes one year to assemble one from start to finish. Many artisans who put these pianos together have been perfecting their trade for 30 to 40 years. It's the combination of a dedication to craftsmanship and the use of the finest materials that makes the Steinway brand the best in the business.
"The sound of a Steinway piano is unlike any other piano you've heard," said Frank DeFonda, manager and operations partner for the Steinway Piano Gallery. "It's a pure tone… Steinway is the finest piano made. There's no comparison."
Steinway and Sons was founded in 1853 in New York City and opened its factory in Queens in 1870, which is still its only U.S. manufacturing location today. Steinway makes three different lines, classified by price range: Essex, Boston and Steinway. Prices run from an Essex, which costs $6000, to a to Steinway model D – a nine foot concert grand piano – which costs just under $150,000.
The Syracuse Steinway store has a model D in stock and DeFonda rents it out for Steinway artists who are playing shows in the Central New York area. If you're at a concert anywhere from Canandaigua to Utica, there's a good chance the piano player is playing a Steinway from DeFonda's store. The piano company has about 1600 artists signed on as "Steinway artists," which means they exclusively play Steinways. Some of these artists include Billy Joel, Harry Connick Jr. and Duke Ellington.
DeFonda has always had a connection with Steinway pianos. He bought his first piano 29 years ago and has been playing ever since. He said that it wasn't long before he was playing Steinway exclusively.
"There's an association [with Steinway] that's just wonderful," he said. "I'm a drummer and I improvise on the piano and I was just drawn to Steinway long ago. I always felt that they were a prestige product, the relationship between me and Steinway happened pretty quickly."
(Continued on Next Page)
Prev Next
Vote on this Story by clicking on the Icon