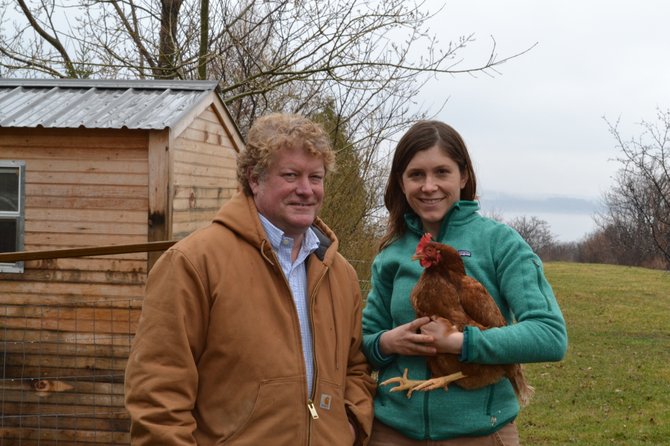 2252 Nunnery Road in Borodino may look like just another house from the road, but a visitor may notice something unusual as they approach — the sound of clucking chickens.
Ron Meyers and Ashley Dayer are currently raising about 150 newly hatched chickens as a part of their newly expanded Marigold Farm business.
Marigold Farm is a family farm that operates through a community supported agriculture (CSA) program. A CSA is a farm that sells "shares" of the different foods it produces. People who purchase a share pay a set amount of money up front and then are entitled to a portion of each week's yield. This year, Marigold Farm is selling shares for vegetables, eggs and chicken meat.
When the vegetable and meat shares start in June, customers will be able to pick up their share at Marigold Farm or the Skaneateles YMCA every Tuesday.
One of the biggest benefits of this program to the customer is the ability to meet and have a personal relationship with the farmers.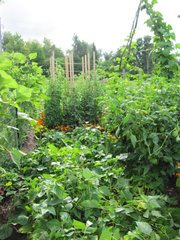 "They aren't just buying our products, they are really becoming a part of the farm," Ron Meyers said.
Meyers, who co-owns and operates Marigold Farm with wife Ashley Dayer, recently left his job as a professor at Jefferson Community College to work on the farm full-time.
This year the couple is running a CSA for the second year, though they have expanded the business considerably.
Last year they sold egg and vegetable shares out of what they were able to produce from eight hens and a small vegetable garden in the yard next to their house.
This year, they have an agreement with a neighbor to grow more expansive vegetable gardens and raise chickens on land zoned for agriculture adjacent to their property. In addition to their eight hens and one rooster they also have 130 newly hatched chicks that will become egg layers by summer.
(Continued on Next Page)
Prev Next
Vote on this Story by clicking on the Icon