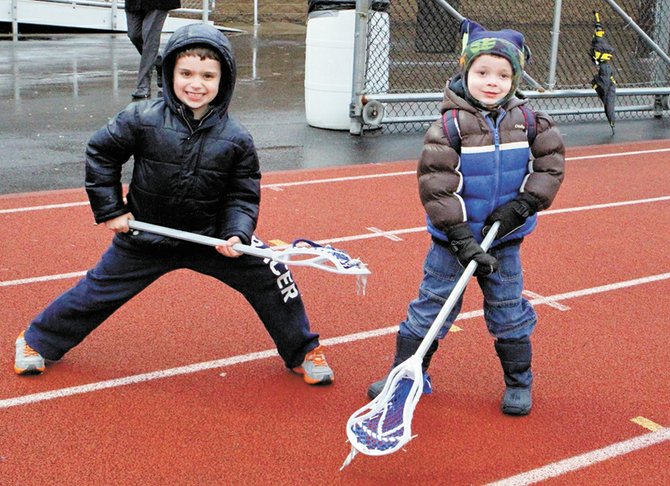 Baldwinsville — William Relyea was diagnosed with Stage 3 Neuroblastoma on Dec. 7, 2009, at six months of age. While he successfully underwent chemotheraphy to shrink an invasive abdominal tumor followed by a successful surgery, the 3-year-old Baldwinsville boy struggles with serious post-surgical treatment complications. His body is now dependent on IV nutrition and he has life threatening medical emergencies.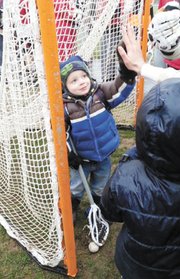 Last week, he was able to focus on something other than his condition when the Baldwinsville Boys Lacrosse Team invited the youth to their practices and Friday night game against Auburn.
It all started when Kevin Ferrigan, a member of the Boys Lacrosse Booster Board, learned about William from fellow lacrosse parent Sue Bertrand, founder of Maureen's Hope Foundation, and was touched by the boy's story. Ferrigan suggested the team dedicate a game to William to raise awareness among players "as to what a family in our community is going through."
While many of the players are involved with the Maureen's Hope Foundation's youth group, Ferrigan said he wants all the players to know there is more to life than just lacrosse and being a high school student.
"We hope the team can learn from a little 3-year-old boy," he said.
That education began on Wednesday, April 10, when the boy's mother, Kristie, spoke with team members about the adversity he has faced since an infant.
"When Mrs. Relyea told her story, our entire team and coaches were deeply moved," said Boys Lax Coach Pete Fiorini. "It can't help but be an inspiration to anyone who hears his story and what he has overcome and continues to battle."
After hearing about William's plight, the team presented William and his 6-year-old brother, Nicholas, with lacrosse sticks purchased by the team for the boys. Over the next two days, Fiorini and a few players took time out of their practice to work with the boys on shooting, face-offs, catching and more.
(Continued on Next Page)
Prev Next
Vote on this Story by clicking on the Icon