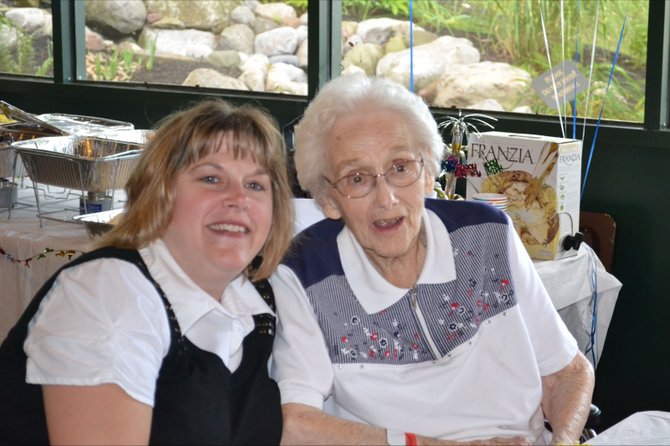 continued — And that's a big reason why Ohstrom decided to put together a senior activities "Fun, facts and fitness" expo, which will be held in May.
Senior activity expo
Ohstrom said that after many sons and daughters have called her asking for a list of activities that their parent can get involved with, she finally decided to put an activities expo together for all members of the community.
"People call us because they don't know what's out there and what programming is available to seniors. Many times, their parents have come to live with them, or they're helping to take care of them and say that they're lonely or depressed because they're not doing a lot," Ohstrom said.
She was inspired by Senator John DeFrancisco's senior activities fair, which is held at the fairgrounds each year. But because of the fee to set up at the fair, many of the volunteer groups can't afford to attend. So she partnered with the Fayetteville Library to hold an event which will be free for all groups and guests.
"It's called 'Fun, facts and fitness' so people can focus on the social aspect- whether it be to take a class, volunteer, or find a group to join," said Ohstrom.
Dozens of groups are scheduled to set up at the expo, including OASIS, the local senior centers, the YMCA, the Alzheimer's Association, FISH, and the Fayetteville Fire Department. There will be activities throughout the day as well: Pippi's Healing Garden is sending a teacher to give chair yoga demonstrations, there will be exhibits about senior travel and a speaker from Fayetteville Home Health products will talk about safety in the home.
Guests can expect a big emphasis on volunteer opportunities. From the senior centers to the library to the local parks and recreation programs, there will be something for everyone.
"A lot of seniors want to volunteer, but don't necessarily want to go down to the city to do it," Ohstrom said. "There will be many opportunities for seniors to sign up to volunteer right here on the East side."
The expo will be held on Tuesday, May 14 at the Fayetteville Library from 1 p.m. to 5 p.m. For more information about the fair or Senior Home Care Solutions, call 247-6741 or visit syracusesenior.com.
Vote on this Story by clicking on the Icon