Editor's note: this story was split into two parts that will run in the Eagle Observer in the April 17 and 24 editions. The full story is available below.
Anyone who lived in Marcellus in the 1960s and 70s probably still remembers Bill Moran, the former teacher and bookstore owner.
"He was an outstanding teacher and very popular with the students," Phil Coccia said.
Coccia, a friend of Moran's and long-time middle school teacher in Marcellus, said he was also well-known for his short-lived bookstore, "Bill's Books," on Main Street in the village in the same space that today is home to First Cup cafe.
"Everybody loved to go in there, he had flower pots everywhere with plants growing and he sold penny candy which the young kids liked," Coccia said.
Born and raised in Central New York, Moran taught science at Chester S. Driver Middle School for 10 years after finishing his college education at SUNY Albany. He started the outdoors club at the middle school and owned the bookstore for two years.
Then in 1977, Moran made a decision to drastically change his life. He sold his bookstore, packed up all his possessions and drove west.
One month after leaving, he purchased an isolated plot of land in northwestern Montana where he lives today, at age 71.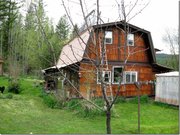 With the help of a few friends from Central New York, he built a rustic house on the land he purchased and moved in permanently. Since, 1989 he has lived in a more robust house, which he also built, that is powered by solar panels and heated by a wood-burning stove.
Moran's lifestyle change may have seemed drastic, but his life in Marcellus wasn't exactly perfect either.
He left his job as a teacher at Marcellus in 1975 after a controversy with school administration.
(Continued on Next Page)
Prev Next
Vote on this Story by clicking on the Icon