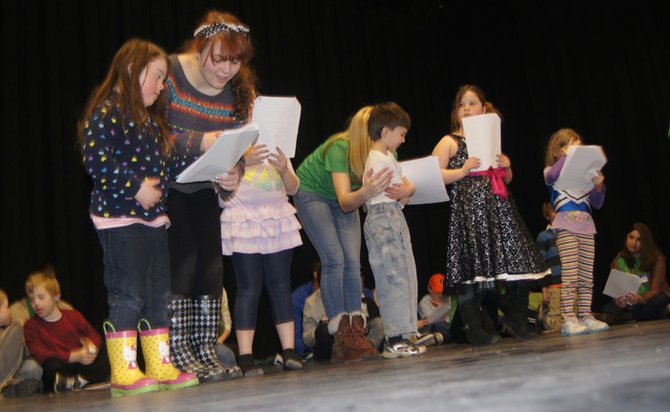 Hamilton — Twenty-seven children in Hamilton are on a quest for confidence, courage and, most importantly, heart. The Oz Project meets at the Palace Theatre in Hamilton but the elementary- and middle-school aged participants come from many of the surrounding districts, including Hamilton, Madison, Cazenovia and Ostelic Valley.
The outcome of the Oz Project is will be a production of "The Wizard of Oz" as a collaborative effort between kids of all ages and abilities. The "munchkins" meet every Wednesday afternoon to learn the music, choreography and lines for the show on April 21.
Although the production on Sunday is the outcome of the Oz Project, it is not the goal. The project, at heart, strives towards the goal of creating an inclusive environment for all children. The program, currently in its fourth year, was formed to bring together differently-abled students and students who are typically developing in a common social space.
"The typically developing kids [get] as much, if not more, from the program as the differently-abled kids," said program director and Assistant Professor of Educational Studies at Colgate University Sheila Clonan. "The real beauty of the program is the way the kids come together as a group and learn to appreciate and value that we all interact with the world in different ways."
Although the families of the students will surely appreciate the show on Sunday, the rehearsals "are where the magic happens," said Clonan. The sessions begin with a snack and Opening Circle, where counselors illustrate the day's theme with an Oz-themed skit. Session themes so far have included courage, making new friends, bullying, empathy, confidence and helping a friend.
The "munchkins" are then broken up into their groups and visit a series of stations, one for each aspect of the performance: music, dance, drama games, where kids work together practicing the skills they've been learning, and rehearsal, where all these elements come together. Each station is run by students from Colgate University.
(Continued on Next Page)
Prev Next
Vote on this Story by clicking on the Icon