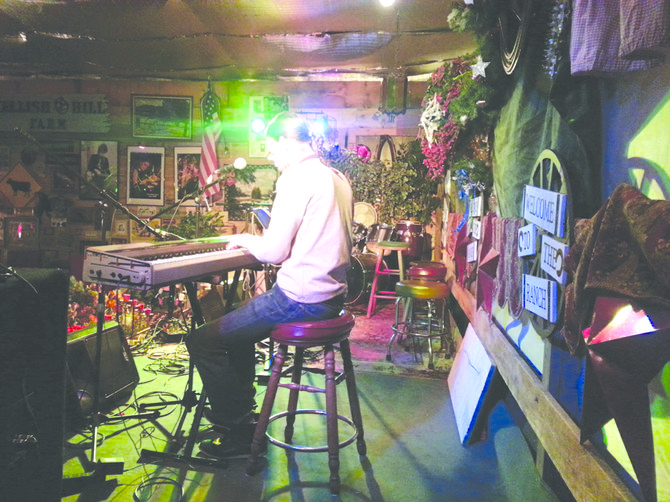 continued — Because her venue relies almost entirely on donations to keep itself afloat, Kellish said that many of the musicians who come through understand the good thing she has going on and do what they can to support the music barn.
"When we do a concert, we work out a percentage with the musicians beforehand," Kellish said. "Many of them look at it through our eyes and say 'Well, you've got to earn something too.' They want us to be here for future events, they see what we're doing."
Kellish Hill may be one of the only music venues around that doesn't serve alcohol. Despite the fact that many people have reminded her that it doesn't take much to get a liquor license, Kellish does not think it's worth the hassle.
"We're not a bar, we're here for the music and the people," she said. "People have suggested we get a liquor license to sell drinks – we don't. Instead, we do potluck suppers, where people come together and share."
The farm has a lot in store over the next month. On April 20, Carrie Lazarus of News Channel 9 will be shooting a concert at the barn as a part of her "Extraordinary People and Places in Central New York" feature. Kellish is honored to have been selected alongside David Muir, who will also be featured on the segment.
Mike MacDonald will be headlining the event, which begins at 7 p.m. The cost is $8 per person.
And on May 18, the farm is holding its "Raising the Stage" fundraiser. Kellish has lined up over 20 acts to perform for an all day long concert, starting at 11 a.m. and ending late at night. There is a $10 admittance fee, which will go towards the construction of an outdoor stage on the farm's 152 acres of land. If all goes well, Kellish hopes to have the stage up and running for the summer on Memorial Day weekend.
More than anything else, Kellish is passionate about music, and sharing that love and appreciation with anyone and everyone who visits the farm.
"When people come in and play music, it's like you already know them," she said. "You carry a bond and you see it in the other person's eyes."
Vote on this Story by clicking on the Icon