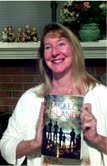 Fayetteville — Amy Benevento has been writing ever since she was a little girl growing up in the village of Fayetteville. She recalls how she used to write stories and plays for the neighborhood kids to act out in elementary school. When she entered Wellwood Middle School, she had her own column in the newspaper called "Dear Amy." And at F-M High School, she remembers rewriting the lyrics to 'Windmills in my Mind' and singing it at Showboat, the school's annual talent show. And now, as an adult, Benevento has published her first novel, titled Jackel Island.
"When the idea for Jackel Island hit, it hit like a storm," Benevento said. "When I started writing it in August 2011, I put everything on the back burner. I worked nearly every day for the 13 months I was writing it. I don't think I missed more than five days. I wrote not because it was discipline, but because it was fun. Everything else seemed trivial; it was like I was on a drug."
Jackel Island is the story of a group of people working together on an island, where they are testing a new drug for a pharmaceutical company. None of the characters know exactly where the island is, but Benevento said it's located somewhere between India and Indonesia. In the beginning, all is well for the 21 people working on the island, but then all of a sudden, their supply ships stop coming, their computers shut down and they learn that the outside world thinks they have all been killed in a big storm. The people start to suspect that they're test subjects for the pharmaceutical company, and begin to blame each other and wonder who is in on the plan.
Benevento describes it as a psychological thriller, and says some people compare it to "Lost" or "Jurassic Park," but that her book is more scientific and not really like either of its comparisons.
(Continued on Next Page)
Prev Next
Vote on this Story by clicking on the Icon