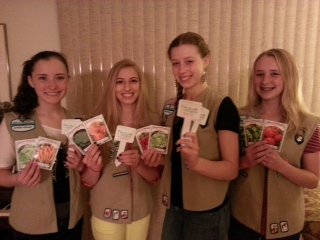 continued — The troop will introduce the F-M PAR program to the public on April 28, 2013 from 11:00AM-3:00PM at the East Area Family YMCA's Healthy Kids Day Event located in Fayetteville, NY. The troop will have an informational booth and will be giving out free Starter Kits to those interested in participating in the PAR program. Starter kits will include vegetable seeds, row markers, and drop-off site information. There will also be resources available to help locate other food pantries around Central New York in communities outside of F-M.
To help FM Community Outreach, people can plant an extra row in their gardens this year or purchase extra items at the supermarket or farmers market for donation. All types of firm, clean, durable vegetables and fruits, as well as herbs and cut flowers are welcome.
Donations for the FM Community Outreach Food Pantry can be made starting June 2, 2013 through September 15, 2013 at the East Area Family YMCA (200 Towne Dr., Fayetteville, NY) and Manlius YMCA (140 W. Seneca St., Manlius, NY) on Sunday afternoons until 7:00 PM and Mondays from 6:00-10:00 AM. Donations will be transported to FM Community Outreach for distribution. Donations should only be dropped off at the designated YMCA locations to ensure the privacy of food pantry clients. Donations are tax-deductible and receipts can be obtained at these drop-off locations.
The Troop is also encouraging residents and communities throughout Central New York to donate fresh produce to their local community food pantries in keeping with national PAR goals.

Local businesses sponsoring this project through provision of services, materials and other support are FastSigns - Erie Blvd., East Area Family YMCA, Manlius YMCA, Cross Creek Nursery and Manlius True Value. Please contact the troop at pamomalley131@gmail.com with any questions.
Vote on this Story by clicking on the Icon