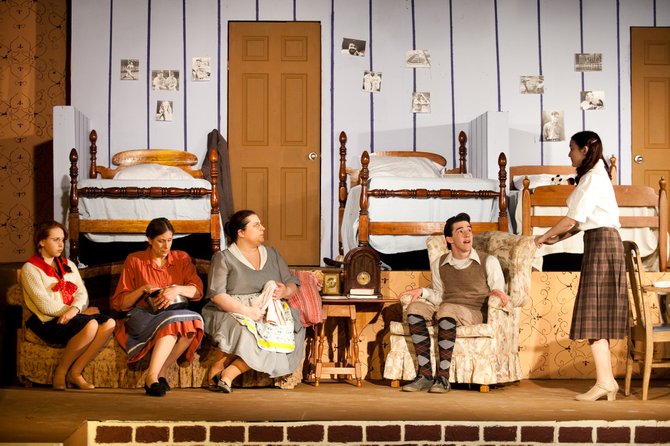 DeWitt — Two aspiring actresses from Fayetteville-Manlius High School exude chutzpah galore as dissimilar sisters in "Brighton Beach Memoirs," the Neil Simon comedy-drama now on stage at CNY Playhouse at DeWitt's Shoppingtown Mall.
Erin Griffin, an F-M junior, portrays Nora, a 16-year-old spitfire who dreams of dancing on Broadway, while Zoe Miller, an F-M freshman, plays younger sister Laurie, sickly yet sharp-as-a-tack.
The sisters and their asthmatic, widowed mother, Blanche, are longtime houseguests of their Uncle Jack and Aunt Kate and cousins Stanley and Eugene. Another talented teenager, Josh Hintz, a senior at Corcoran High School, excels as Eugene Morris Jerome, the self-described scapegoat of his lower-middle-class family struggling to survive the Great Depression.
Often speaking directly to the audience in asides as the action unfolds in the family's humble Brooklyn walk-up, 15-year-old Eugene reveals his distaste for liver and cabbage, obsession with the New York Yankees and his innermost fantasies involving Nora's breasts.
Director Dan Rowlands – who fulfills a lifetime desire to stage "Brighton Beach Memoirs" (be sure to read his nostalgic program note) – filled out the cast with two experienced actors and two actresses new to the CNY Playhouse stage.

The ever-reliable Keith Arlington plays Jack, the overworked head of the household. A veteran of the Syracuse Shakespeare Festival, Arlington knows how to sculpt and shape a character. His Jack carries the weight of the world on his shoulders, even anticipating the upheaval to come in World War II, but – when it's necessary to hold his family together – he communicates warmth and wisdom.
One of Syracuse's emerging new talents, Justin Polly portrays Eugene's older brother, Stanley, who gets fired from a haberdashery. Often featured in comedic roles, Polly gets a chance to display impressive range in "Brighton Beach," especially in Act 2 when Stanley shames his family when he gambles away his week's pay and ponders joining the Army.
(Continued on Next Page)
Prev Next
Vote on this Story by clicking on the Icon