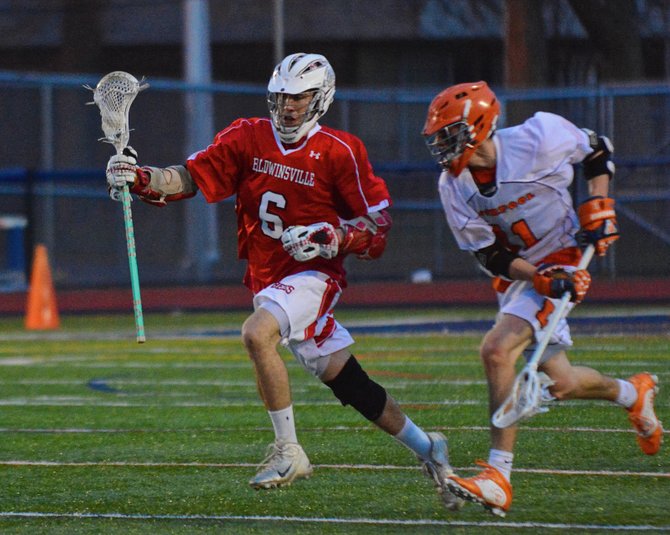 Baldwinsville — On so many levels, the Baldwinsville boys lacrosse team's 7-6 overtime victory over Liverpool Tuesday night at LHS Stadium was special.
First of all, it was the fact that the Bees defeated the reigning Section III Class A champions. Adding to it was having B'ville get the best of one of its most famous alums, Mike Felice, who is the Warriors' head coach.
Beyond all of that, though, was the way it transpired. The Bees trailed, 6-2, going into the fourth quarter, but made up the entire deficit to force an extra period.
Then, just 20 seconds into that OT period, Steve Petrelli, executing a steal off an attempted Liverpool pass, raced to the net and ripped a shot past Liverpool's superb senior goaltender, Dominick Madonna, to win the game.
Going in. B'ville had just a 1-3 record, and had just come off a double-overtime defeat to Cazenovia on April 6. For a while, it didn't look like this game would get that far.
Working against Liverpool's trademark zone defense, B'ville was forced to the outside, taking low-percentage shots. All it could manage was single goals in the first and third quarters.
Liverpool, meanwhile, steadily worked its way to a 6-2 lead. Kendall Keahey scored twice, while Justin Renk, Peter Flood, Dom Castiglia and Jamie Kuppel each notched single goals.
What kept the Bees within sight was the solid work of a defense that had done just as well against Cazenovia, controlling the tempo but not getting any reward for it, at least in the early stages. Goalie Parker Ferrigan would turn away 15 of 21 shots.
Suddenly, in the fourth quarter the Bees started putting shots past Madonna, who would gain 14 saves. Zach Bulak, Connor Chapman, Ronnie Bertrand and Mitch Rein all took turns getting crucial goals that pulled the Bees even. Bulak would lead with two goals and one assist.
But it was Petrelli, who already had two assists, with the final word, sealing a win that was bound to pick up the Bees' confidence level for the rest of the regular season.
Vote on this Story by clicking on the Icon