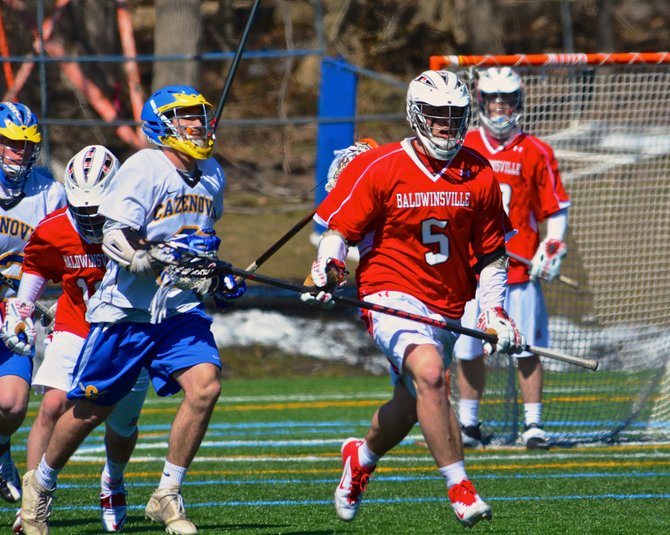 Even with early goals from Connor Cannizzaro and Brad Nardella, the Lakers could not get any distance from the Bees in the first half. In fact, it got blanked in the second quarter as B'ville, with Zach Bulak scoring twice, forced a 2-2 tie at the break.
During the third quarter, the Bees again gave up a quick goal, this time to P.J. Brown, and again settled down on defense the rest of the period. All of it seemed for naught, though, when Alex Sullivan's tally early in the fourth quarter doubled B'ville's deficit to 4-2.
Still, the Bees battled back, Hamm converting with 9:10 left, and continuing to probe until Bulak struck again, passing it to Steve Petrelli, who beat Lakers netminder Alex Cross for the tying goal with 3:40 to play in regulation.
Kyle Brown's chances late in regulation to end it went wide, setting up a four-minute OT period where both sides had possible winning possessions, only to squander them as Cross and B'ville goalie Parker Ferrigan (who finished with 15 saves) made clutch stops.
So it went to a second OT. B'ville again claimed the face-off, but was turned back, Cross getting his 15th save on Bertrand's winning attempt and allowing the Lakers another possession.
Following a time-out, Cannizzaro, quiet for most of the game, charged through B'ville defenders and sent a high shot that eluded Ferrigan and found the net to end it.
Aside from the first encounter with Liverpool (and B'ville alum Mike Felice, who coaches the Warriors), the Bees are at home Friday to take on Auburn.
Vote on this Story by clicking on the Icon