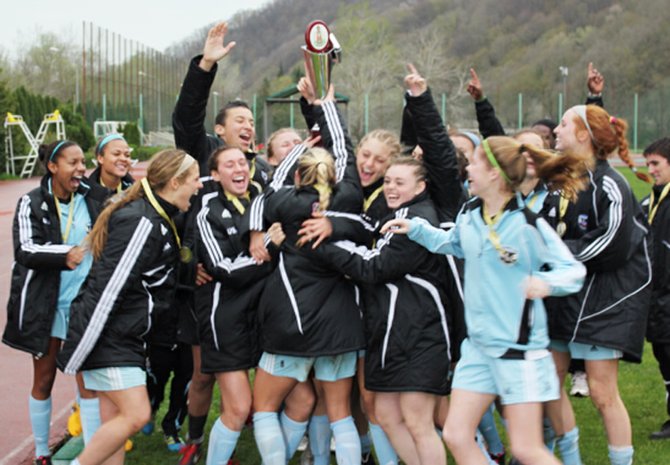 Baldwinsville — Emma Firenze, of Baldwinsville, and Eva Gordon, of Syracuse, were selected to represent team USA (Under 19) Region 1 Olympic Development Program soccer team to play at the "Spring Kuban International Soccer Tournament" in Russia. The team is comprised of US ODP Regional players from eastern states Virginia to Maine.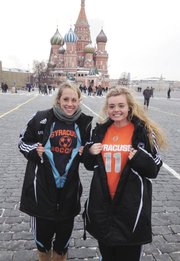 The girls traveled from March 2 to 17 to Moscow and Sochi, Russia. There, they competed against National teams from North Korea, Russia, Estonia, Turkey, Romania, Slovakia, Iran, Ukraine, Azerbaijan, Estonia and Krasnodar Region.
The girls were led by Head Coach Ken Krieger, who is most known for his daughter, Ally Krieger of the US National Women's Soccer team, and Darren Marshall, Assistant Coach with the Boston Breakers.
The ninth edition of the Kuban Spring international women's youth tournament was successfully held in Sochi, Russia, home city for the 2014 Winter Olympic Games. The USA Region 1 team won gold at the 12-team tournament, but the real winner was not only football (soccer), but international relations with the event held amid an overwhelming atmosphere of camaraderie and goodwill per FIFA.com, which has long been involved in supporting the U-19 tournament.
Hosted by the Football Union of Russia, the tournament aims to foster and encourage new and lasting friendships between young players with different languages, ethnicities, cultures and backgrounds, according to FIFA.com. The atmosphere in the players' village, while warm in the first week of the event grew by the day to become fully integrated by the end of the tournament.
"This tournament not only improves the skills of the young players but opens a world where there are no borders, nor cultural or language barriers," said Thierry Regenass, FIFA Director of Development and Member Associations. "The only thing which counts is friendship and teamwork. The benefits of this tournament extend far beyond football."
(Continued on Next Page)
Prev Next
Vote on this Story by clicking on the Icon