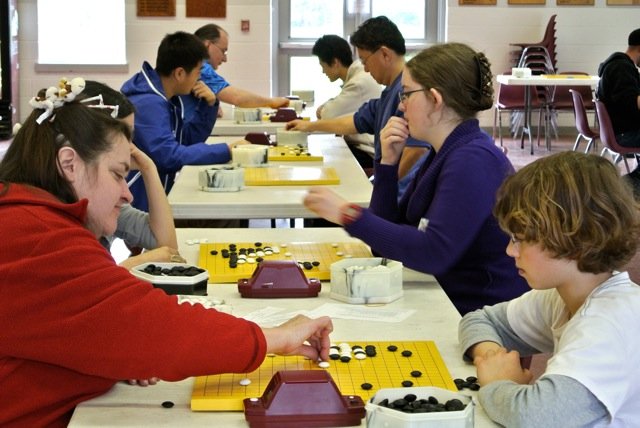 continued — "One nice thing about Go is that you use the handicap so you really get used to losing," Moseson said. "If the handicap is properly set, you'll lose about half of your games and they'll still be challenging for both sides. With chess you can have handicaps by maybe not playing with a queen, but it changes the character of the game."
This year is an exciting one for members of the Go club because, for the first time, they have four dan- level players. One of them is a nine year old boy named Yitian Liu who moved to Syracuse from China this year with his father, who is a visiting scholar at Syracuse University. Liu is already a 2 dan player and is only going to get better. Moseson said that while players like Liu are a big deal in the United States, in countries like China, Japan and Korea, (where the game is very popular) young players with high rankings are more common.
"There are many players that strong over in China," he said. "They get good training from the beginning and they can devote some time to it. And that's the time to learn to play, when you're young. Most of the players who become professional are under 20 and are sometimes 11 or 12 years old. It's harder to become professional as you get older because your brain doesn't work as fast."
The Syracuse Go club has been around for about ten years now, and each week anywhere from six to 15 players will show up at Wegmans to play. Moseson said the club meets at 7:15 p.m. and sometimes lasts until after 11 p.m. Games typically last anywhere from 30 minutes for a casual game to two or three hours for a more serious one. Moseson stressed that beginners are always welcome at the club and that many of the members are happy to teach and play with beginners.
Vote on this Story by clicking on the Icon