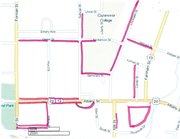 Cazenovia — The village will expand public parking options this spring with a new lot at 22 Lincklaen St., next to the post office, and plans other changes to add flexibility to the village parking situation. It will also toughen enforcement on those who have not paid their fines.
Seeking a holistic approach to its historic parking problem and faced with a backlog of hundreds of unpaid parking tickets, the village passed new guidelines in February designed to encourage prompt payment of fines.
Under the new rules, basic parking violation fines will increase from $20 to $25 with higher fines for fire hydrant and handicapped spot violations. Any fine not paid or contested by the violator within 10 days of the date it was issued will increase an additional $25. Infractions not addressed within 30 days will face further penalties.
Enforcement has also been stiffened with the Cazenovia Police Department authorized to immobilize or tow any vehicle that has one or more unpaid parking tickets that are more than 30 days old. The Village of Cazenovia Court will scoff the registrations of those with more than three unpaid parking tickets through the state department of motor vehicles.
The village plans to add increased flexibility in some areas and to continue to expand public parking overall, but cooperation in adhering to local parking laws will also be an important component to solving Cazenovia's decades-old parking crunch. Free all-day parking is offered behind the library and on numerous streets at the edge of the business district. Those who work in the village are urged to use these options, leaving two-hour downtown spaces for shoppers and visitors.
The village appreciates the cooperation of the vast majority of Cazenovia residents who park sensibly and courteously. The new parking regulations will encourage those who do not to change their habits.
Vote on this Story by clicking on the Icon