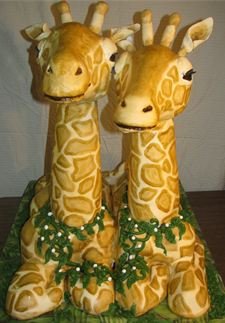 Fayetteville — From cruise ships to giraffes to the Carrier Dome, Syracuse Cake Art can make almost anything into a cake. Kathy Felser began experimenting with baking 3D and wedding cakes in her own home five years ago. She says that even though she struggled at the beginning and had cakes falling apart left and right, she knew right away that baking and decorating cakes is what she's meant to do.
"My passion is what kept me going," Felser said. "I would get frustrated and disappointed with myself, so I'd stop, then a few days later I would try again. I can't imagine doing anything else right now and I wish I had figured it out earlier in life."
At first, baking cakes was just a hobby for Felser, who would make them for friends and family whenever needed. Then Felser met Marie Adornato, the owner of Spybabies bridal boutique, who could tell there was something special Felser's cakes and pushed her to pursue a career in baking. Felser said that she wouldn't have had enough confidence to open the shop without Adornato's encouragement and help when it came to opening the business.
Syracuse Cake Art has been open for two months now, and specializes in 3D and wedding cakes. Felser calls them her "crazy 3D creations" and says they're her favorite thing to make. Since she began, she's made almost everything her clients have asked for- that includes an "Angry Bird" shaped cake, and Otto the Orange cake and a fire truck shaped cake.
In order to create one of these highly- detailed cakes, Felser spends an average of three days making sure everything comes out to perfection. She begins by baking the cake and putting together the different layers with frosting. She then uses a knife to shape it into whatever shape the client has asked for. Next, Felser frosts the whole thing again and covers it with fondant. And finally, she begins to make the small details and assembles them on the cake piece by piece.
(Continued on Next Page)
Prev Next
Vote on this Story by clicking on the Icon