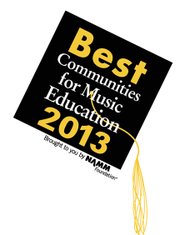 Baldwinsville — The NAMM Foundation has named the Baldwinsville Central School District a 2013 Best Community for Music Education designee for the fourth consecutive year, acknowledging the district's commitment and support for music education as part of the core curriculum.
The Best Communities designation recognizes collaborative, from-the-ground-up efforts of teachers, administrators, students and parents who continually work to keep comprehensive music education as part of a district's core curriculum. In the application process, the BCME program requires each school and district to detail funding, staffing, commitment to standards and access to music instruction.
The Baldwinsville Central School District's music teachers are Jennifer Bearup, Megan Brody, Aliza Cincotta, Donna Cole, Cynthia Doback, Laurie Dobmeier, Kristina DuBois, Rebecca Dusart, Justin Ezzo, Terryann Gerber, Patricia Hollis, Christine Isbell, Katrina Kahl, Colin Keating, Dana Lambert, Brittany O'Reilly, Steven Uhl, Jennifer Vacanti, Casey Vanderstouw and Timour Vernyi.
"Our talented and dedicated teaching staff, in collaboration with district administrators, the Board of Education, parents and the entire Baldwinsville Central School District community has made this designation possible for four consecutive years," said Superintendent Jeanne Dangle. "Thank you to everyone for their commitment to providing Baldwinsville's students with a music program that fosters their talents and encourages their creativity."
Vote on this Story by clicking on the Icon