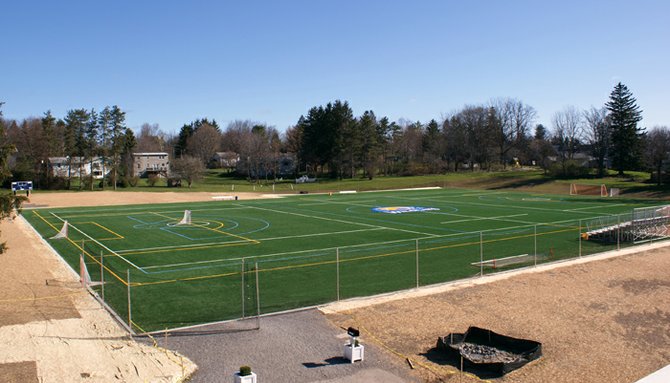 continued — The fencing plan should have been submitted to the planning board with the overall turf field plan in 2011 so the board could assess the potential impacts of the fence on the character and integrity of the adjoining historic district and properties, Carr stated. He further stated that the college's "intentional" separation of the fence application from the previous field application flies in the face of state laws preventing separate parts of the same project from being submitted individually — called "segmentation" — as a way to possibly change the outcome of a site plan review.
The college's "intentional separation" of the fence plan from the turf plan "could easily be construed as an effort by the college to circumvent the clear and unequivocal requirements of both the village code and the State Environmental Quality Review Act," Carr wrote.
The college appealed Carr's decision to the ZBA on Feb.1, 2013, and the board held a public hearing on the issue on Feb. 5. The college submitted additional comments to the board on Feb. 27.
The ZBA's public hearing on March 26 was one final opportunity for the college and the public to submit further comments and information to the ZBA before the board issued a ruling on the college's appeal of the ZEO decision.
At the hearing, Bernstein reiterated the college's position that the fence was a project separate from the turf field and that to arbitrarily connect the two was a legal "slippery slope" that would prevent any landowner from building any fence without it being tied to some other previous project. He said that because this was a perimeter fence and not a fence only for the turf field there is no reason that an amended site plan review of the field project must be completed.
Carr had "clearly misapplied" the segmentation prohibition of state law to this case, and the college never contemplated adding a fence during the field construction process, Bernstein said.
Vote on this Story by clicking on the Icon