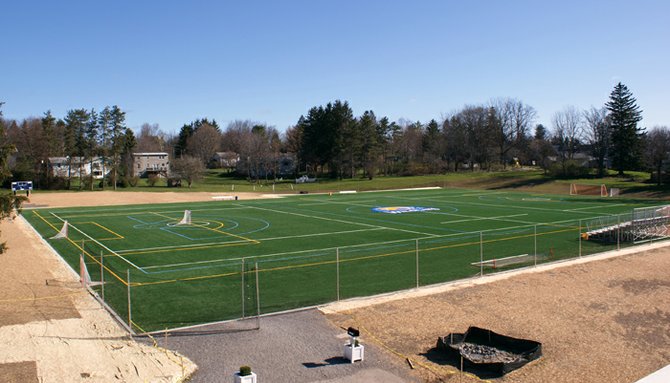 continued — The village planning board approved the field project in August 2011. The new Christakos Field was completed in December 2011, inaugurated for play in spring 2012 and officially dedicated on Sept. 29.
According to letters between the college and the village, all contained in the village ZBA files, in late July 2012, the college sought a building permit for a six-foot-tall, chain-link perimeter fence around the athletic complex. Village ZEO William Carr told the college it must submit an amended site plan for the turf field project since the fence was part of that overall project. The college disagreed with Carr's assessment and did not submit an amended site plan application.
On Aug. 10, the college president sent a letter to abutting neighbors informing them of the fence plan and on Sept. 4 convened a meeting with those neighbors to describe and show the location of the proposed fence. Some neighbors objected to the plan at that time.
On Sept. 12, the college withdrew its July building permit application. The application was resubmitted in early October with a detailed explanation that the fence was needed to prevent trespassing on the field. On Oct. 17, the college requested Carr provide a written explanation of why the college must do more than obtain a building permit for the proposed fence.
Carr's Nov. 5 response stated that the fence "is clearly a component of the college's overall plan of development for the athletic field," and that "if not for the construction of the turf field, the college would not be proposing a fence. The fence cannot reasonably be considered independent of the turf field." Carr reminded the college of Tierno's specific denials of any intention of the college to build a fence or any other embellishments around the field, and said the village planning board's approval of the field project was "clearly and specifically" based upon the college's specific representations as to "what would not be built in conjunction with this project."
Vote on this Story by clicking on the Icon