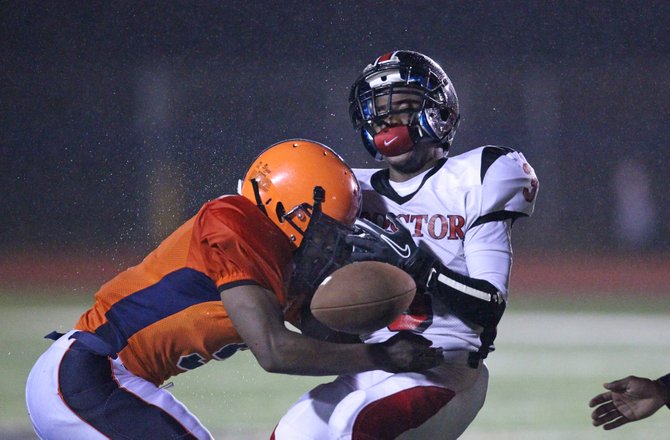 continued — "Everybody's always worried about Jeff Edwards," Mancuso said. "But when you give Miller the ball, you see he's an athletic runner, and he cracks it. They kind of forget about him because Jeff is so good and when they forget about him, the coach up in the box reminds me of him, and we give him the ball."
Another Miller touchdown run with 9:29 left in the half extended Liverpool's lead to 21-6. After Dustin Springer scooped up a muffed Proctor punt and ran it back for the score, it appeared Liverpool would head into the break with a double-digit lead.
But in only 76 seconds, Treen drove the Raiders 66 yards. Elliott took a sweep right 30 yards to cap it off and pull Proctor within 28-18.
On the ensuing kickoff, Liverpool's Pat Twum juked and jived his way past a slew of Raiders tacklers 85 yards and into the end zone. However, while attempting to stretch the ball over the pylon, Twum fumbled, and it was ruled a touchback.
Treen then hit Chris Simmons on an improbable, 78-yard bomb with four seconds left in the half. Liverpool's 16-point lead was reduced to three in only 58 seconds.
"I was really concerned about them at halftime with us giving up 14 points in (a minute)," Mancuso said. "That really takes the breath out of you, but we have great kids. They just battled."
Proctor took the lead early in the second half. Elliott returned the opening kickoff 80 yards and punched it in from the five on the very next play.
But Mancuso went right back to Edwards and Miller. Carrying the ball nine times on the Warriors 11-play, 56-yard scoring drive, the duo continued to grind down the stacked Raiders front. Utica Proctor put as many as nine players in the box in the second half. Edwards finished the drive and put Liverpool back on top with a one-yard plunge.
Vote on this Story by clicking on the Icon