Cazenovia — A new face can be seen behind the counter 59 Albany St. and a new voice can be heard answering calls to 655-9243. Anna Marie Neuland, the Greater Cazenovia Area Chamber of Commerce's newest executive director, has also been lending a hand at the organization's office as of Sept. 1.
An avid member of Cazenovia League of Women Voters, Cazenovia Rotary Club, Shared Services Committee and local bowling league, Neuland came highly-regarded and has seamlessly transitioned into her new role over the past month.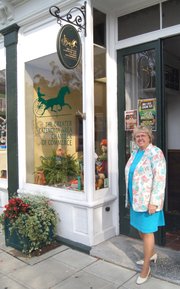 "Besides doing what all other chamber of commerce organizations do, we are also a visitor center for Cazenovia, so I answer a lot of questions. In addition, I will take care of member dues and the directory, and update the website with upcoming events," Neuland said. "I really like the job so far. I hope to give the members all of the help that they deserve. I'm also looking forward to working with the village, town and everyone in the community. We're here to help."
Neuland beat out 15 other applicants for her position as executive director.
Boasting an accomplished past work history, she was elected for the job by GCACC officials. Neuland formerly worked as a manager of cost accounting at Proctor & Gamble, in a finance capacity at Professional Teleconcepts and even owned her own business, Neuland's Professional Cleaning, for 18 years.
After visiting one of her sons that had moved to Cazenovia, Neuland and her husband, William, decided the area was a favorable spot to settle down.
Three years later the couple made the move themselves, and have now lived in town for 17 years. Between the two of them, they have six children, 15 grandchildren and one great-grandchild – many of whom are current students of Cazenovia Central School District.
Neuland can be found from 9 a.m. to 4 p.m. Tuesday through Friday, and from 9 a.m. to noon Saturdays at the GCACC office at 59 Albany St. To contact the office, call 655-9243 or email info@cazenovia.com.
To learn more about the GCACC and its members, visit cazenoviachamber.com.
Pierce Smith is editor of the Cazenovia Republican. He can be reached at editor@cazenoviarepublican.com.
Vote on this Story by clicking on the Icon