Cazenovia — Curious nature lovers of all ages joined Amy Kochem, local naturalist and educator, and the Cazenovia Preservation Foundation on Aug. 30 in search of fireflies and other nighttime animals in the meadows and woods at the Burlingame Road trail.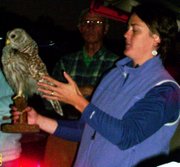 Before the hunt, Kochem gave a detailed talk on the behavior and sounds of these nocturnal animals. She brought pelts and feathers for all participants to see and touch.
Not many fireflies were found, but many nets caught crickets and other flying insects.
While out in the woods, one could hear the hoot of a Barred Owl and the chirping of crickets with an astonishing view of the full moon peaking through the trees.
Unfortunately, the 2012 Summer Walks n' Talks is over for the season, but will return in the spring of 2013.

All are welcome to enjoy what CPF trails have to offer. Visit the organization's website for upcoming events or to become a CPF member at cazpreservation.org.
Janet Elliott is publicist for the Cazenovia Preservation Foundation. She can be reached at janetelliott@twcny.rr.com.
Vote on this Story by clicking on the Icon