continued — Serafin said he has high hopes for the village of Manlius in the next 200 years.
"I still see it being a thriving community where people enjoy living, raising their families and working here," he said. "It's just a great spot to be. Our founders really had it right."
One thing's for sure: Manlius is in for its fair share of changes in the near future. Mayor Serafin said the development of Manlius Square at the intersection of Fayette Street and Highbridge Road is "moving right along." Aside from that, residents can expect new businesses to open up soon, including the Ironwood restaurant that will serve gourmet wood-fired pizza.
The Swan Pond is now starting its first phase of renovations, and Perry Springs Park is a fairly recent addition to the village. The East Area YMCA purchased the Eastside Racquet Club on West Seneca Turnpike last spring, and opened a new, expanded facility there in July.
"There are so many marvelous things to look forward to, it's really a great time to be part of the village of Manlius," Serafin said.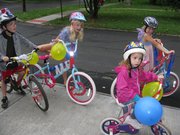 And change is a good thing, according to village of Manlius Trustee Janice Abdo-Rott.
"I hope the village improves. Our business quarter is not thriving — there are a lot of empty stores," she said. "So I hope that'll change with the help of the renovations as well as the parks and recreation department doing everything they can to improve the quality of life in the village. I think that change is coming."
Kristen Hansen is the parks and recreation director for the village of Manlius. She said she hopes the dedication of Founders Park will not only bring the Manlius community closer together, but will also attract more visitors from other areas of Central New York.
"The parks in Manlius are great, very well used by the community," she said. "We're hoping that Founders Park will be used even more now that people know about it. Mill Run Park is a beautiful park with a playground and pavilions, and Perry Springs Park is our new park — the fish hatchery. One thing I would say about parks in Manlius is that they're very diverse."
Even though 2013 is the bicentennial, Mayor Serafin said he's planning to make Founders Day an annual celebration in the village.
Allie Wenner is a freelance reporter for the Eagle Bulletin. She can be reached at acwenner@gmail.com.
Vote on this Story by clicking on the Icon