continued — And those were the only points of the first half. Defenses on both sides controlled the line of scrimmage, and Cazenovia was struggling to juggle its two quarterbacks, as Kevin Hopsicker returned from a separated shoulder that had sidelined him early this season.
The concern grew early in the third quarter when Purple Tigers quarterback Caden Giroux hit Teddy Phillips for a 20-yard pass that, when a tackle was missed, turned into a 50-yard scoring play. The extra point left the Lakers behind, 7-6.
That's where it stood late in the period when Cazenovia, due to a series of penalties, were pushed back to Cortland's 35-yard line, facing third-down-and-goal.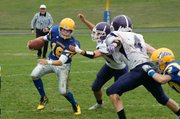 Hopsicker dropped back, got time to throw, and then unleashed a pass over the middle that Joe Colligan caught at the 15. Colligan dashed into the end zone, and the Lakers had the lead for good.
More big plays would follow. Hopsicker's 24-yard pass to Warren set up Andrew Vogl's two-yard TD run to make it 18-7. Then Hopsicker broke several tackles on a 33-yard TD run with 6:37 left, and Mark Dewan returned an interception 60 yards for the clinching score less than two minutes later.
Jake Wilson ran for a team-best 62 yards, while Hopsicker finished with 58 yards on the ground. Defensively, Nick Bobbett had a team-best 10 tackles, with Mike Nourse and Nick Tedesco adding nine tackles apiece and Billy Bigsby getting eight tackles.
All of this improved Cazenovia's record to 3-1, and it will host Camden next Saturday at 1:30 for the Homecoming game. And the Lakers will have Steinhorst back at practice, too, continuing to heal.
Vote on this Story by clicking on the Icon