Tait spoke briefly, telling the court he was "very sorry."
"I wish I believed you, but I don't," Burns said to Tait before the sentencing. "You expressed little or no remorse [in initial interviews with investigating officers] … no compassion or respect for the dignity of your employees … and your reason for conducting the physical exams was nonsense."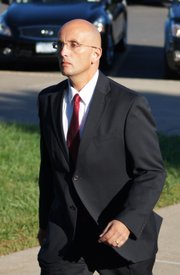 Burns said requiring Tait to register as a sex offender and revoking his funeral director license would not have been unreasonable, but those actions were out of the scope of this authority. Burns did, however, pass orders of protection for all the victims.
The lead prosecutor, Chenango County First Assistant District Attorney Stephen M. Dunshee, said he was satisfied with the ruling.
Hoping to avoid making the victims attend a trial and testify before Tait, Dunshee offered a plea deal he felt was appropriate. He said if the case had gone to trial, the maximum punishment Tait would have likely served would be one year in jail with no conditions of supervision following his release.
"Probation is not easy," Dunshee said. "[Tait] will be under intense supervision and scrutiny by the probation department. This will keep him on the hook for three years."
Pierce Smith is editor of the Cazenovia Republican. He can be reached at 434-8889 ext. 338 or editor@cazenoviarepublican.com.
Vote on this Story by clicking on the Icon