Photo Gallery
10th Annual Fayetteville 10K Classic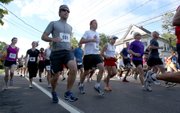 The 10th annual Fayetteville 10K Classic saw 110 runners, and one wheelchair rider, compete Saturday. Proceeds from the race benefit the Syracuse Chargers Track Club's scholarship fund.
Fayetteville — More than 100 competitors crossed the finish line at the 10th annual Fayetteville 10K Classic, which started and ended in Beard Park prior to the Fayetteville Festival Saturday.
Maegan Krifchin, 24, of DeWitt, was the first runner to finish with a time of 33:57. Todd Halbig, 36, of Fayetteville, came in second; he clocked in at 34:56.
Augusto Perez, 39, of East Syracuse, who navigated the course in a wheelchair, was the first participant to finish the race with a time of 30:39.
Proceeds from the Fayetteville Classic support the Syracuse Charger Track Club's college scholarship fund. The race results, including all participants' times, can be viewed here.
Vote on this Story by clicking on the Icon