Cazenovia — This overtime thing is quickly growing into a habit for the Cazenovia and Skaneteles boys soccer teams.
For the second time in less than a week, both groups of Lakers went beyond 80 minutes, this time against each other, and decided nothing in a 1-1 draw at the Sean Googin Sports Complex on Monday afternoon.
Each side had gone to OT in their last OHSL Liberty division showdown. Cazenovia had lost 3-2 to Westhill last Thursday night, watching Jake Etoll score in the first 10 seconds of the extra period.
For Skaneateles, the frustration was different. Back on Saturday, those Lakers finished the game with rival Marcellus stopped on Sept. 4 due to lightning.
When that game resumed 11 days later, the Lakers led 1-0, thanks to a goal by Sam Clymer. It remained that way until Nate Waite, off a feed from Tom McNaney, scored with less than two minutes left in regulation, tying it 1-1 - where it would stay through overtime, the game ending in a draw.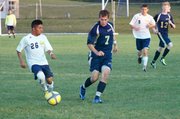 Looking to bounce back, Skaneateles went to Cazenovia, where the other Laker side was short-handed, missing two senior captains, midfielder Conor Race (knee) and sweeper Tyler Dunkle (concussion), both out with injuries.
And the visitors got off to the best start. Just 4:02 into the game, Mike Jorgensen found space 25 yards out in the middle of the field, and ripped a hard shot past Cazenovia keeper Chase Matteson into the left side of the net.
Gradually, Cazenovia settled down, and started to attack with more regularity in the middle portion of the half. In the 19th minute, Conner Polsin, working from the right corner, crossed to the center, where Tyler Modzeleski struck a low shot that eluded Erik Pola and tied the match.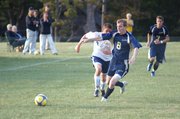 More than 80 minutes of soccer would remain, but neither side would find the board again, this despite a furious pace that continued deep into the second half, when Skaneateles started to get the lion's share of scoring opportunities. Austin Amory nearly got his side in front with 4:25 left, beating Matteson, but watching Will Fallows deflect it just wide right.
That trend lingered into overtime. Early in the first extra period, Alex Brownlee, lined up well left of the Cazenovia net, hit a solid shot that was inches from winning it, but struck the right post. Neither side would get so close again.
The challenges will continue on both ends as Cazenovia takes its shot at Marcellus on Thursday and Skaneateles, after playing Phoenix, will host the Finger Lakes Cup this weekend, starting with a rematch of the 2010 state Class B final against Burke Catholic Friday night.
Vote on this Story by clicking on the Icon