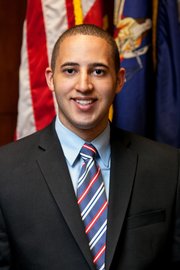 Cazenovia — Cazenovia College's 2012 Washburn Distinguished Lecture, to be presented at 3:30 p.m. Monday, Sept. 17 in McDonald Lecture Hall of Eckel Hall on Lincklaen Street, will feature Svante L. Myrick, mayor of the City of Ithaca. The event is free and open to the public.
The Washburn Lecture Series at Cazenovia College features notable persons speaking on topics of broad interest. Mayor Myrick will address the political process and the upcoming presidential elections.
The Annual Washburn Distinguished Lecture was created by Professor Emeritus Margery A. Pinet to honor the memory of her parents, the Rev. Gordon H. and Mrs. Dorothy M. Washburn.
For information about the lecture series, contact Sarah Diederich at 315-655-7994.
Vote on this Story by clicking on the Icon
More like this story