Jordan — Unlike the usual fall plantings of tulips, hyacinths, daffodils and lilies, students at Jordan-Elbridge Middle School next week will adorn the school's front lawn with an altogether different – but no less colorful – crop.
As part of the international Pinwheels for Peace art and literacy project, fifth- and sixth-grade students of art teacher Betsy Sio have created 100 handmade pinwheels to plant at JEMS on the morning of Sept. 21, the International Day of Peace. This is the second year JEMS students have participated in the pinwheel program.
"I feel that any time one stops and really thinks about world peace, we are one step closer to attaining a more peaceful world," Sio said.
Started in 2005 by two art teachers in Coconut Creek, Fla., the project provides a way for students to express their feelings about what's going on in the world and in their lives. In the first year, groups in more than 1,325 locations worldwide planted some 500,000 spinning pinwheels around the globe. By last year, that number had ballooned to more than 4 million pinwheels in some 3,500 locations in the United States, Europe, Asia, Australia, Canada, the Middle East, Africa and South America.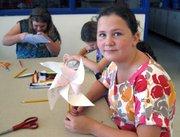 Students in Sio's classes started by decorating sheets of paper with the Japanese paper-marbling technique of suminagashi – in which acrylic ink is floated atop a layer of water and the paper soaks up the ink. (Sio's classes are currently studying Japan.) Next, each student wrote a "peaceful wish" on the flip side and folded the sheet into a pinwheel shape and pinned it to a pencil eraser.
"I wish people would stop bullying others," wrote
Sixth-grader Madison Schell wrote, "I wish people would stop bullying others," while her classmate Alyssa Haney wrote, "My wish for peace is that everybody will be kind."
"I wish for world peace and no more wars," wrote sixth-grader Abbi King.
The United Nations established the International Day of Peace in 1981.
Vote on this Story by clicking on the Icon