Dr. Jason Grabosky, a Cazenovia native and professor at Rutgers University whose contribution to soil design research has become an industry standard for growing healthy trees, is this year's recipient of the International Society of Arboriculture's prestigious L.C. Chadwick Award for Arboricultural Research.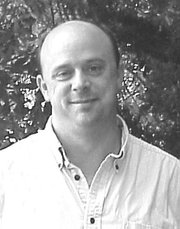 The L.C. Chadwick Award is given to individuals to recognize their research and its valuable contribution to arboriculture. ISA President Colin Bashford honored Grabosky during the ISA Annual Conference and Trade Show from Aug. 11 to 15, in Portland, Ore.
"Dr. Grabosky's work has shed light on such areas as our industry's root-soil-pavement issues and branch-crown development," Bashford said. "He's helped arborists and tree care experts better understand how trees grow as well as how to grow healthy trees where space is restricted. The impact of his research is being felt worldwide."
Grabosky is an associate professor in the Department of Ecology, Evolution and Natural Resources at Rutgers University in New Brunswick, N.J. As a graduate student at Cornell University, he assisted in the testing of Cornell Structural Soil, which allows for better root growth and pavement support, especially in urban communities.
"You need to know how something grows, works or breaks before managing it," Grabosky said. "Through my research, I want tree care professionals to know they can talk about what they need and get solutions to their problems by learning and understanding the approaches and languages of other professions. Working to ask better questions of other disciplines will often bring about faster and better results."
Grabosky is one of nine winners in this year's ISA's Awards of Distinction, sponsored by Bartlett Tree Experts. Robert Bartlett Jr., Chairman and CEO of Bartlett Tree Experts said, "Celebrating the wonderful accomplishments of these men and women encourages people around the world to take notice. The recipients are representative of the incredible achievements happening in tree care research and education."
Since 1963, ISA has been honoring members and industry professionals with the Awards of Distinction. Nine categories recognize candidates in such areas as research, publishing, education, and advancing the best practices of proper tree care in the industry.
The winners are selected by a diverse group of experts in arboriculture including university professors, retired arborists, owners of tree care companies, and forestry managers. More than 20,000 members make up ISA's organization worldwide.
Vote on this Story by clicking on the Icon