DeWitt — Four residents joined in singing the national anthem in front of the DeWitt 9/11 memorial this morning.
It was a humble, but inspired, conclusion to a small remembrance ceremony organized by East Syracuse resident Elaine Lostumbo when she learned there would be no formal ceremony this year.
"Those who died did not die in vain, for we are now the continuation of their lives, and we will make them proud," Lostumbo said during the service, which included prayer, a reading of Cheryl Sawyer's patriotic poem, "One," and a moment of silence to remember those who died in the terrorist attacks that took place eleven years ago today.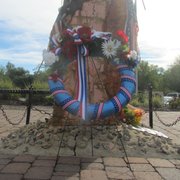 Lostumbo, a retired nurse, said she used the same service she planned in 2002 for a DeWitt medical center that is no longer open.
"I'm just a patriotic person," she said. "Someone that really cares, and someone that appreciates the culture of America."
Lostumbo placed a wreath — which she purchased and decorated with flowers, a patriotic ribbon, and a dove figurine — at the foot of the 9/11 memorial monument, to continue the tradition of the town's formal ceremony.
The town of DeWitt's 9/11 memorial services have included participation by local fire and police departments and service members, and ambitious flag displays. Lostumbo and Joe Chiarenza, of DeWitt, are committed to bringing back a formal ceremony next year.
"We don't have to do it like we've always done it … we can keep it simple," Lostumbo said.
Vote on this Story by clicking on the Icon