New Woodstock — A lot of progress has been made in the last two decades in the Madison County Department of Solid Waste and Sanitation.
Recycling in the county has led the way through innovation, education and ecologically responsible policies. Now Madison County Recycling Coordinator Sharon Driscoll brings an informative display about the county's latest waste management innovations to the New Woodstock Free Library.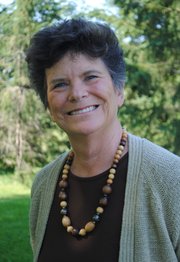 The display, which highlights solar panels, gas utilization and state-of-the-art landfill management, will be at the library through the month of September.
The display and associated materials will be available for public viewing during all regular library hours. Driscoll will be at the library from 10 a.m. to noon Sept. 8 to speak with local residents.
According to Driscoll, the exhibit consists of two three-fold, two-sided display boards and hand outs. One of the photo displays explains the solar panel construction process, the gas-to-energy facility, the reuse store and a pilot project for collecting AG and rigid plastic. There will also be recently updated recycling guides and mercury disposal brochures, as well as AG and rigid plastic brochures.
"Madison County is the only municipal landfill in the country to have solar panels on its landfill," Driscoll said. "There are only two privately owned landfills that have solar panels: one in Georgia and one in Texas. The solar panels provide 45 megawatts of power. This power satisfies half of the electrical needs necessary to run the ARC MRF (recycling center) at the Buyea Road Landfill site."
Driscoll, who has worked with the department for two decades, said in 2009 Madison County partnered with Waste Management Inc. to construct and run a methane gas utilization facility at the Buyea Road Landfill site in the town of Lincoln.
This private/public partnership has allowed the county to better utilize the methane gas emissions from the landfill and to turn that harmful environmental gas into an energy source. This process utilizes energy from decomposing garbage.
(Continued on Next Page)
Prev Next
Vote on this Story by clicking on the Icon