On Sunday, Aug. 26, about 60 people gathered for the Fenner Neighbors Group summer picnic at Nichols Pond Park. The theme of the day was "Support the windmills, stop the gas drills."
A potluck was organized, and the Mutton Hill Mumblers (a band of nine area musicians) entertained everyone during the day with fun and inspiring music. New friendships were made and old friends reunited. There were plenty of activities for young people and lots of information shared about gas drilling.
Local residents expressed deep concerns about the impact that hydraulic fracturing would have on their homes, neighborhoods and town. Issues of water and air pollution were raised as well at the loss of property value, damage to town roads and disruption of the beauty and quiet of the land.
Jack Ramsden from Shale Shock was the guest speaker. Ramsden is a former law enforcement officer and has visited drilling sites and talked with people in Pennsylvania. His visits there changed his mind about drilling which he now sees as dangerous to communities.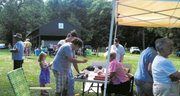 Lengthy discussions were held at the picnic. All hoped that Governor Andrew Cuomo will ban gas drilling in New York, just as Vermont and a number of European countries have done.
Many of those in attendance agreed to support the town supervisors in banning drilling from Fenner. All towns have a legal right to do this, since the New York State Supreme Court has upheld all local municipalities decisions to ban drilling under "home rule."
Organizers of the event launched a petition drive to gather support for this idea, and 15 people volunteered to help with the drive.
All who attended the event were in agreement that it should be held every summer. The picnic helped unite the community and bring Fenner residents together to celebrate and protect their town.
Philip Rose is a member of the Fenner Neighbors Group. He can be reached at prosemeister@gmail.com.
Vote on this Story by clicking on the Icon