Liverpool — While most of us have spent the last days of August lazing about poolside or cramming in as much fun as possible before Labor Day, teachers, administrators and school support staff have been hard at work preparing for the 2012-13 school year.
In the Liverpool and North Syracuse school districts, a number of changes await students and their families as they return to classes Sept. 4 and 6, respectively. Read on to find out what's new in your district.
Liverpool
Liverpool welcomes four brand-new principals to the fold — Darcy Cangello at Liverpool Elementary, Brett Woodcock at Morgan Road Elementary, Dana Ziegler at Nate Perry Elementary and Michael Baroody at Liverpool High School — and moves Amanda Caldwell to Soule Road Middle School from the high school.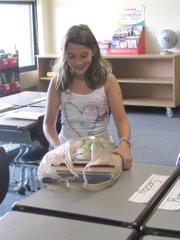 In addition, work at the Liverpool Elementary/Liverpool Middle School campus is nearing completion. The $34 million project, which was approved by voters in May of 2010, began that fall. It included major renovations at both schools, neither of which had seen significant work since the 1970s. The buildings weren't even in compliance with the Americans with Disabilities Act.
Now, the complex has improved traffic flow for pickup and dropoff of students, new roofs on both buildings, renovated classrooms, improved HVAC systems, improved plumbing and drainage and improved electrical systems, among other repairs. Work should be completed within the next couple of months.
Finally, parents of elementary-age kids in Liverpool will see a major change in the way report cards are structured, as well as when they're sent home. For elementary schools only, the district is shifting from quarters to trimesters, and the assessment system has changed so that it better correlates to the New York State Department of Education's Common Core Standards. North Syracuse's elementary schools are implementing a similar system for their report cards.
(Continued on Next Page)
Prev Next
Vote on this Story by clicking on the Icon