Baldwinsville — Lysander residents will have two candidates to choose from when filling the town councilor seat left vacant by Brian May in January after May became an Onondaga County Legislator.
James Hickey, a registered Republican, was appointed to fill the vacancy after May's departure and is now running on the Conservative and Democratic party lines in the upcoming election. His opponent, Russ Johnson, is also a Republican running on the Republican and Independence party lines.
Eagle Newspapers recently interviewed the candidates to get an idea of what each candidate represents. Their answers are featured below:
James Hickey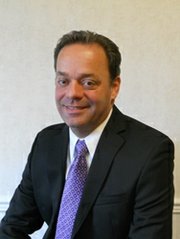 Community Involvement:
I was appointed to serve on the Town Board of Lysander this past January for 2012. I have also served on the Board of Directors for Beaver Lake, Junior Achievement, The Volunteer Center and I am currently a Cub Scout Leader for my son's den in Pack 248 of Baldwinsville. My wife and I are very involved with Saint Mary's Academy where both of our Children attend school.
How do you plan to ease the financial strain on the residents of Lysander?
The board is currently working in several areas to reduce the financial strain. When the new board took office in January, it became apparent that the previous board had not solicited written competitive proposals from 16 out of the 21 professionals who provide many different types of services to the town. These professionals had received payments totaling $1.8 million dollars from Jan. 1, 2010 through Oct. 31, 2011. As a result of this finding, we have implemented a process to receive competitive proposals for these types of services. Through this process we have hired a new town attorney and we have hired a staff engineer instead of an outside engineering firm. This will result in the savings of tens of thousands of dollars moving forward as well as reducing the overall cost of development within the town of Lysander. We will continue to look into all of these areas to ensure that the town receives the best services at the best possible cost.
(Continued on Next Page)
Prev Next
Vote on this Story by clicking on the Icon