Baldwinsville — Lysander residents will have two candidates to choose from when filling the highway superintendent seat left vacant by Bruce Reeves earlier this spring.
Eugene Dinsmoor, a registered Republican, was appointed to fill the vacancy after Reeve's departure and is now running on the Republican, [Conservative] party lines in the upcoming election. His opponent, Chris Patrick, running on the Democratic party line.
Also on the November ballot is a referendum, which gives voters the choice of keeping the highway superintendent seat an elected position or changing it to an appointed position. This referendum is on both the town of Lysander and the town of Van Buren ballots. Should voters decide to change the positions to appointed, the respective town board will then appoint a candidate to the position.
Eagle Newspapers recently interviewed the candidates to get an idea of what each candidate represents. The candidate's answers are featured below:
Christopher Patrick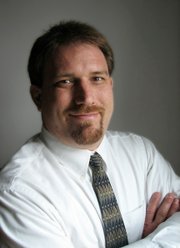 Community Involvement: Lysander Democratic Committee, Durgee PTSA, BCSD Facilities and Transportation Budget Committees
In your opinion, what are the advantages and disadvantages of changing the highway superintendent position from elective to appointive?
I am focusing on the advantages and I reject the reasoning of "It has always been done that way." Many things in our lives would be different if the "It has always been done that way" thinking wasn't changed. There would still be slavery, segregation and women wouldn't be allowed to own property or vote as examples. An appointed highway superintendent provides these advantages:
Creates accountability to our town board for all aspects of job performance

Assures specific job qualification are met

Enables oversight and review

Promotes cooperation with other town departments, town board and other local governments

Encourages organizational efficiency by working toward common goals

Eliminates competing agendas within town government

Paves the way for formal shared or consolidated services for the benefit of all taxpayers
(Continued on Next Page)
Prev Next
Vote on this Story by clicking on the Icon