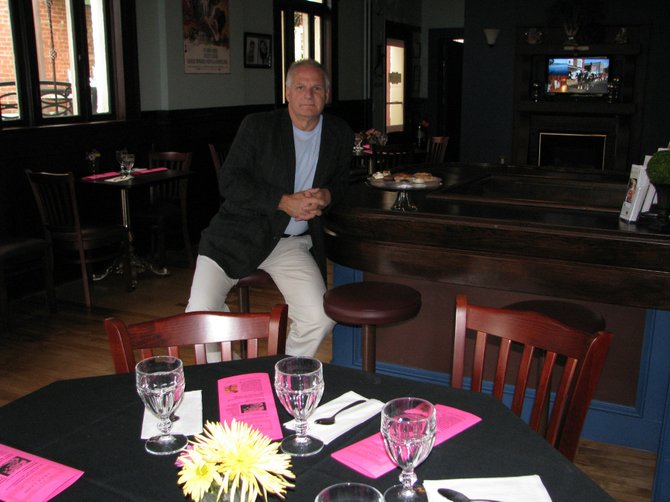 Baldwinsville — Grab a cup of coffee, order up a sweet treat and submerge yourself in an atmosphere that's sure to take you back more than a few decades.
Welcome to La~La Land, the newest addition to Mohegan Manor's collection of eateries. Located in the heart of the village of Baldwinsville at 56 Oswego St., the patisserie opened July 15 to sell ice cream and desserts in a full service, comfortable setting, said owner Dennis Sick.
"It complements the Manor," he said. "It services walk-ins, take outs and patrons of the restaurant, Club Sushi and Steak and our Lounge can order from La~La Land."
Being a self proclaimed movie buff, Sick said everyone else has done the 1950s scene, so he wanted to focus on the eras prior to that.
"I was looking for something more nostalgic," he said.
While there wasn't one individual film that stood out above the rest as inspiration for the interior of the cakery, the work of director Frank Capra is well represented. Those who take a trip to La~La Land will be taken back to the time of the Golden Film era when they step inside and enjoy their visit amid film reels, classic movie posters, photographs and quotes of the great actors and actresses of the time that adorn the walls.
The eatery, located in the former Berndt-Michels Cleaners, was an idea Sick had for some time, but had put on the back burner believing the space he hoped to turn into a black and white movie lover's haven wouldn't be available any time soon.
But, Sick said he received a surprise call one day from the dry cleaner's, an offer he couldn't turn down.
The storefront at 56 Oswego St. was officially purchased June 15 and Sick soon after rolled up his shirt sleeves and went to work stripping walls, painting and evolving a space once filled with "dry clean only" clothes into an opening reminiscent of a 1930s and 40s Los Angeles.
(Continued on Next Page)
Prev Next
Vote on this Story by clicking on the Icon