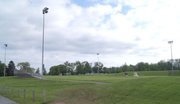 Skaneateles — Close to 100 unhappy residents crowded into the truck bay of the Skaneateles Fire Hall last week for a Zoning Board of Appeals public hearing on a light variance request from Victory Sports Medicine Enterprises for its planned 99-acre sports complex off Route 20.
The variance would allow the complex to have 17 poles with 70-to-90 foot athletic field lights.
The two-and-a-half hour meeting on Tuesday, Oct. 23, included a project overview from VSM officials and an explanation of the proposed lighting by Don Rhuda, of Musco Lighting Company, and then more than an hour of public comments, which were overwhelmingly in opposition to the variance. No action was taken by the board that night.
The planned health, wellness and sports complex has been in the works for four years, and is intended to be an expansion of Victory Sports Medicine and Orthopedics, a local sports injury practice established by Dr. Marc P. Pietropaoli in 1999. The 99.5-acre complex located on land off East Genesee Street, past East Lake Road but before Coach Road, will contain a 171,000 square-foot building, which will house both medical offices and indoor athletic facilities, and 13 outdoor athletic fields made of either artificial turf or natural grass.
The lights
The ZBA public hearing was called to discuss the variance request for the 17 poles of 70-to-90 foot field lighting on the outdoor fields. Town zoning laws currently limit such lights to 20 feet. Should the ZBA reject the VSM Enterprises request, the company would have to revise its plans, which would postpone a scheduled Town Planning Board public hearing set for late November.
"The heights are not arbitrary. They're based on math and aiming angles," Rhuda, from Musco Lighting, told the board. He said to make the 17 light poles only 20 feet tall would be "unsafe for players, unsafe for neighbors and something that is not usable."
(Continued on Next Page)
Prev Next
Vote on this Story by clicking on the Icon