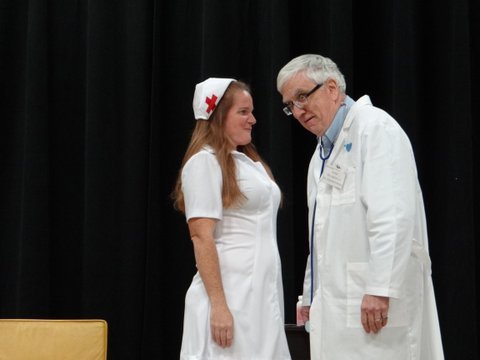 Baldwinsville — The Baldwinsville Theatre Guild began in 1942. The first offering for the 70th consecutive season of quality, community theater is Neil Simon's "The Sunshine Boys." The comedy was last done by the guild in 1981.
The vaudeville duo of Willie Clark and Al Lewis spent 43 years together traveling the country in search of laughs. The problem was they hated each other. Eventually Al retires leaving Willie struggling to find work. His nephew/agent Ben Silverman tries but there are no gigs for old vaudevillians. Eleven years after The Sunshine Boys disband, CBS plans a special on the history of comedy. What a perfect venue for a pair of old jokesters! How is Ben going to bring the two feuding funnymen back together? Will the Sunshine Boys shine for one more night?
First-time director Pat Bridenbaker has assembled a veteran cast that has mastered the Simon comedy. He also slips on stage for a cameo role. The two vaudeville comedians are BTG veterans. Jon Barden (Al Lewis) admits to being with the guild since 1965. He has directed many shows over the years and has enjoyed his own time on stage. John LaCasse is the irascible Willie Clark. His family says he is Willie all the time at home. The duo's interaction makes this comedy a classic.
Willie's nephew, Ben Silverman, is challenging because he has to put up with Willie's antics. Jon Wright, a veteran actor, has to mix comedy and frustration. Kathy Egloff, as comfortable in musicals as comedies, is the registered nurse who matches wits with Willie. Normally helping backstage, Kate Hoy has earned the role of Nursey. The redhead reminds you of the classic burlesque beauty. George Glaski is the stage assistant, Eddie, who also gets to deal with the Sunshine Boys. The television director (Jay Burris) is unseen but runs a tight rehearsal. For the announcer, producer Robin Bridenbaker enlisted the services of veteran newsman Keith Kobland.
As usual, the shows are presented at the Presbyterian Education Center on Oswego Street in Baldwinsville. Opening night begins at 6 p.m. Oct. 26 with dinner theater, something new for this venue. The cost of the dinner and show is $25 and show only is still $15. There are also evening shows on Oct. 27, Nov. 2, 3 and 10. There are two matinees at 3 p.m. Nov. 4 and 11. Seniors get a special rate of $13 at the matinees only. For more information on group rates, call the ticket number at 877-8465.
Vote on this Story by clicking on the Icon