I believe the rule in making a decent sequel is that the subsequent version should be at least as good, if not better, than the original. The sequel should be original and score on its own merits while borrowing thematically from the original.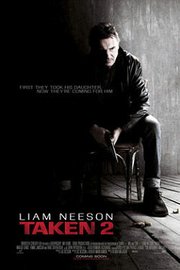 "Taken 2" fails on all counts. Having enjoyed "Taken," its successor was disappointing.
The premise of both movies is that someone much beloved by Brian (Liam Neeson, wearing a terrible toupee) is kidnapped into oblivion by nefarious souls. In this case, Brian's ex-wife (Famke Janssen) and daughter (Maggie Grace) are targeted in Istanbul by a bunch of crazed Albanians.
Brian is a former CIA operative who not only is fearless with the threat of a loved one, but is highly clever and spirited in pursuit of bad guys down the rabbit hole. He is like a middle-aged Boy Scout on steroids.
Neeson, the actor, is good when he is on the move. But, prior to and after the action, the script and acting is so poor, you just wish you had a button to advance the scene. He is wooden, and instead of putting attractive, enthusiastic talent around him, they stuck him with duds.
Bruce Willis could make 15 decent sequels to "Die Hard." They would not all be great, but they would be entertaining because he is entertaining and he surrounds himself with talent.
If "Taken 2" is a decent example of a poor sequel, it is because Neeson finds himself not only in that silly rug, but with so little to say that is interesting, original, or convincing.
Unfortunately, "Taken 2," based on an interesting premise, is just a dumb remake of an otherwise good movie. I recommend the movie only if you need a nap.
Jim Wigge is a retired engineer, Cazenovia resident and film-aficionado, who reviews movies for the Cazenovia Republican. He can be reached through the editor, at editor@cazenoviarepublican.com.
Vote on this Story by clicking on the Icon