continued — Hopsicker's only TD pass of the afternoon involved some good fortune. From the Westhill 29 with 4:22 left in the half, Hopsicker sent a jump ball to the end zone, and a Westhill defender tipped it - but Colligan snared it anyway for the six points.
Alex Sullivan's fourth consecutive successful extra point made it 28-6, where it stood at halftime before the Lakers put Westhill away early in the third quarter.
Wilson accounted for most of the yards on a 65-yard march where the Lakers used its "Jet" package, with Cook taking the snaps and even throwing a pass on one play. Wilson went the final seven yards for the score to make it 35-6.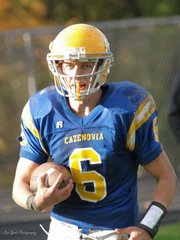 Minutes later, Westhill appeared to be heading for its second score when, at the Warriors' 15, Brusa fumbled after catching a pass. Cook sprinted to the ball, picked it up and was gone, 85 yards down the far sideline for the TD.
Wilson added a 16-yard TD run in the fourth quarter before the starters went to the bench. Both Wilson and Vogl broke the century mark on the ground as Wilson finished with 127 yards on 16 carries and Vogl gained 108 yards on 11 carries.
Cazenovia's defense forced three turnovers in the second half as Nick Bobbett led with 11 tackles, followed closely by Mike Nourse (nine tackles) and Mark Dewan (eight tackles).
In next Friday's Class B semifinal at 8 p.m. at Rome Free Academy Stadium, Cazenovia will face Camden, who advanced out of the opening round with a 37-20 victory over Homer, a game where the Blue Devils' quarterback, Ryan McCarthy, threw four touchdowns, ran for another and kicked a field goal.
The Lakers beat Camden 33-7 in their regular-season meeting on Sept. 29. The winner of the rematch plays Chittenango or Oneida in the Class B final Nov. 3 at the Carrier Dome.
Vote on this Story by clicking on the Icon